Yikes, it's almost December!
Well I've no idea where the time has gone. It's nearly the end of November. So what's been going on in the Leggatt household?
Woz has been busy in the garden and has almost finished constructing the Great Wall of Waddington. Well, ok, it's a wire fence around the chook paddock and yes, the gate was put back on upside down but for his first attempt at fencing I reckon it's pretty damn good!
The kitchen is almost finished - looks fab (well, we think so)! Will post pics when it's all done and, err, tidy!
I've managed to keep the veggie patch alive despite the crappy weather. Even the locals are moaning about the rain so it MUST be bad! Today, however, it's 23degs and bloomin' sweltering. There's no such thing as a happy medium here where the weather is concerned. It does seem to make the garden grow though.. check out this monster growing outside the lounge!
And meanwhile, as I sit here baking, 100 or so icebergs are currently floating off our coastline. The last time this happened was in the 1930's. All in all it has been a year of extremes - with temps hitting the 30's late winter, the snow dump early June, the amount of rain we've had in November. There have also been a lot of quakes in the last few weeks with one just 40km from here measuring 4.3. We didn't feel it - NOTHING wakes me up! Arthurs Pass (a few km up the road) was evacuated due to flooding last week and the Waimakariri Gorge 5 mins away is at it's highest in living memory! Now they're predicting droughts as bad as the one Australia is currently experiencing - again, the worst in living memory.
Waimakariri Gorge from the bridge - anyone who knows this spot will see the dramatic transformation from slow running cool turquoise water..... to this...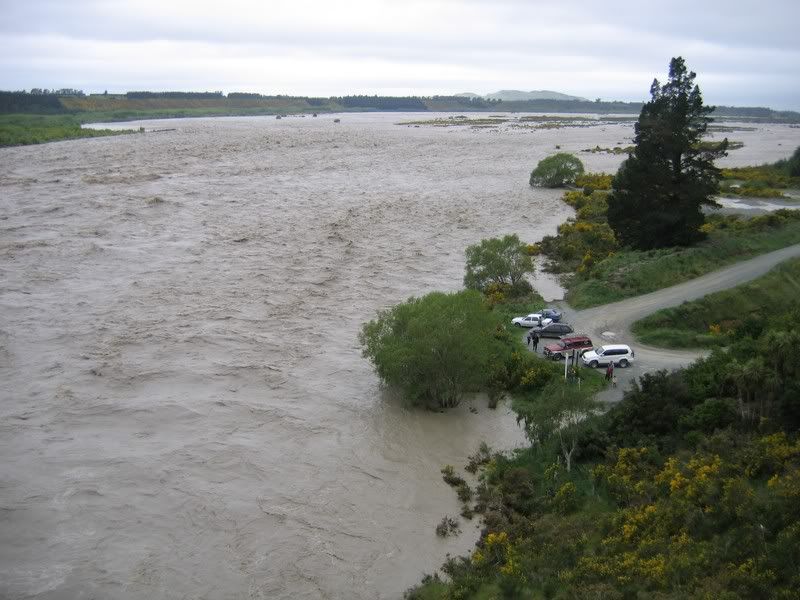 Some more exciting news... I've been taken on as a journalist by Bizreport - an internationally renowned online marketing and advertising portal. I write 3 bulletins a day for them, 5 days a week. I'm so chuffed, and despite working until 4am for the last 2 weeks (trying to establish my sources and faffing with submissions!) I am loving it. You can check out my work and my profile at
http://www.bizreport.com/authors/helen_leggatt.html
Now all we need to do is sort out Woz. He's looking for a complete change from I.T - anyone got any suggestions? I think we can safely rule out fencing contractor!
Ohhh, there goes my tummy again - get butterflies every time I realise my parents are here in a little over 2 weeks!! Can't wait!
Labels: canterbury, emigrate, new zealand, waimakariri gorge